Miyabino Reiichi (雅野麗一) is the goalkeeper for Teikoku Gakuen.
Appearance
Edit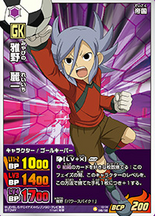 His hair is light bluish gray and spiky, which is raised up. His eyes are colored black. He wears the Teikoku Gakuen goalkeeper uniform.
He first appeared in Episode 1 with the rest of Teikoku to play an exhibition match against Inazuma Japan to see their abilities. In the match, Tsurugi Kyousuke and Matsukaze Tenma shot with Fire Tornado DD. Miyabino tried to stop it with Power Spike V3 but failed, making the score 10-1 for Teikoku.