Mizukawa Minori (水川みのり) is one of Inazuma Japan's managers. 
Appearance
Edit
Mizukawa has a dark cyan colored hair that falls through her shoulders. Her eyes are also dark cyan. She wears school uniform of Iwashiro Jr High.
Background
Edit
Mizukawa was a coma patient in an unknown hospital.
When
Potomuri Emnator
's spirit was searching for a host, he went into Mizukawa's body and "healed" her. That is why Potomuri and Mizukawa actually co-existed in the same body.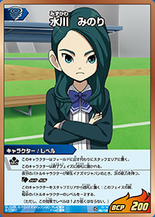 Mizukawa was introduced in the first episode. She watched the exhibition match of Inazuma Japan and
Teikoku Gakuen
, which resulted in a 10-1 win to Teikoku Gakuen. Whilst the match was still resuming, she went over the eight new players' abillites, but they were all to do with other things from soccer, none had ever played soccer before. When the match ended, she walked off with
Kuroiwa Ryuusei
She was introduced as Inazuma Japan's manager in episode 2, along with Sorano Aoi, who appeared in previous series of GO as Raimon's manager.
In episode 10, she seemed to be spying on Minaho and Manabe when looking at the data of the FFIV2 teams, with a mysterious look on her face. She didn't let them see her, as she was hiding behind the door.
In episode 11, when Tenma, Kusaka, Matatagi and Tetsukado went looking for Morimura, Mizukawa told Sorano Aoi that Morimura Konoha was afraid of people, especially girls. Aoi then had second thoughts about joining them find Morimura, but went anyway.
In episode 23, she told Earth Eleven about Kiel, a ruined planet that does not exist anymore. She also revealed herself as a former inhabitant of the said planet.
In episode 24, Potomuri appeared in front of Earth Eleven and told them the truth about him and Mizukawa: Mizukawa had actually been Potomuri's host. During his explanation, Potomuri left her body and returned to his pierrot doll, and the real Mizukawa let out a tantrum towards Tenma. However, Potomuri quickly returned to her body and she was back to her normal self.
Game Exclusive Teams
Edit
She often appears with Kuroiwa Ryuusei, the coach of Inazuma Japan.
According to Kusaka Ryuuji, the real Minori is actually a sukeban, famously known as "the Minotarus of Iwashiro Jr High".