Nishiki Ryouma (錦龍馬) is a midfielder for Raimon.
Appearance
Edit
He has long black hair tied with a blue elastic in a ponytail. He has dark brown eyes. Compared to his teammates, he is quite tall. He has dark skin and large black eyebrows. He wears the Raimon soccer uniform and jacket.
He first appeared in
Episode 1
with
Raimon
to see who would be chosen for
Inazuma Japan
. As Nishiki thought that he would be chosen, it surprised and shocked him that he wasn't chosen at all along with
Kirino Ranmaru
and
Nishizono Shinsuke
.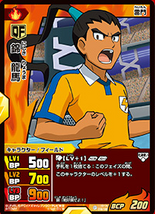 Later, Nishiki was seen watching the exhibition match of Inazuma Japan and
Teikoku Gakuen
with the rest of Raimon. He was very surprised that the Shinsei Inazuma Japan team was worse and even lost with 10-1, leaving the Raimon members disappointed.
Game Appearance
Edit
| | |
| --- | --- |
| | Avatar |
| Uniform | |
All the stats are at level 99 and are untrained.
GP: 156
TP: 139
Kick: 123
Dribbling: 141
Block: 102
Catch: 54
Technique: 120
Speed: 104
Stamina: 112
Lucky: 85
GP: 163
TP: 139
Kick: 124
Dribbling: 163
Block: 87
Catch: 110
Technique: 123
Speed: 98
Stamina: 132 (162)
Lucky: 62
Game Exclusive Teams
Edit